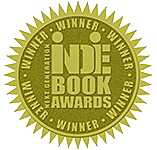 Author note: I rarely write self-referentially but I am making any exception here to share a process I went through in the last couple of weeks.]
In mid-May I was informed that my most recent book – The Great Growing Up – was the winner of the 2013 Next Generation Indie Book Award for Current Events/Social Change, one of sixty award categories. The awards would be given out at a gala at The Harvard Club in New York City. Surprised and tickled upon this news, I immediately asked a friend in New Jersey if he would accept the award in my place since I had plans in San Francisco surrounding the night of the awards and I didn't want to fly in just for the awards and out the next morning. They offered some stickers to put on the cover of the book proclaiming this acknowledgment which I ordered and I started getting used to the idea that my book had earned this honor.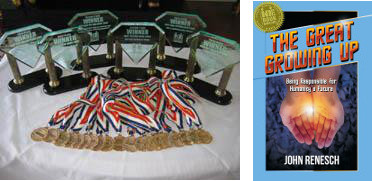 The very next day I was informed that the book was now the 2013 Grand Prize Winner for Non-Fiction! Now I was really surprised! I was still getting used to the first award when news of the more prestigious one landed, catching me off-guard and not quite sure how to respond.
Friends started insisting I should change my plans and go to New York and, after much cajoling and good-natured support on their part, I changed my plans and booked the trip. Then I started looking at my reluctance to change my plans and forgo accepting the award in person. One of my reasons had been that my plans here at home involved a number of people and changing plans would inconvenience many people. I was scheduled for a half day of various pre-op medical appointments followed three days later by cataract surgery. Due to the encouragement I received from friends I contacted one of the medical team and asked how difficult it would be to postpone all my appointments. And here is where it got really funny….he said, "Go on. Accept the award! We can reschedule the surgery." So even my medical team was saying "go"… why had I been resisting going back?
Now, I let it sink in; 25 judges who I do not know selected my book from among sixty categories of independently published books for this grand prize.
So, I went to New York, accepted the award (yes, I got a trophy!), enjoyed the pomp and hoopla in the Big Apple and enjoyed time with my friends who had previously agreed to accept the award for me and with whom I stayed for three days before returning to the West Coast. I enjoyed the acknowledgement thoroughly and had a lovely time of it.